Featured Speakers
Art as Transformation: A Lens for Social Change
LaToya Ruby Frazier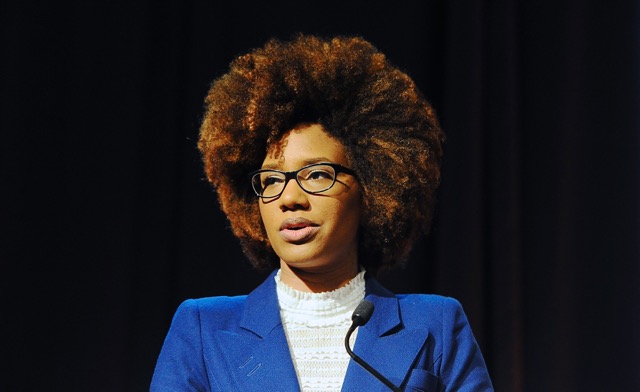 By: Erica Cardwell
The 2017 Othering and Belonging Conference kicked off with a keynote address from acclaimed photographer LaToya Ruby Frazier, best known for her striking images that shed light on the human and environmental casualties of systemic issues. Entitled Art as Transformation: a Lens for Social Change, the MacArthur Genius Grant recipient made an eloquent argument for the use of imagery in seeding real change and cultural transformation that can fundamentally alter the picture those in marginalized communities have of themselves. In her talk, Frazier detailed how she uses photography to fight injustice and create a more representative self-portrait.
Her book, The Notion of Family, exemplifies such themes by serving as an artistic and intimate post-industrial monograph of her hometown of Braddock, Pennsylvania from the fraught perspective of the women in her family and the notion of the Black matriarch. Through an aerial viewpoint of Braddock, the steel mills vein their way through the town, tender and taut like "scars on a human body." Her book "is about showing human pain and what capitalism does to humans and bodies," she said.
Frazier's work poses such as questions as: What happens to us when water is privatized? Or to our food supply when we are sick and cannot work? Or to the many of us who are overmedicated, wrongly medicated, and left to decay in hospital beds? Frazier shared that her mother had been treated poorly by a US hospital while on life support. Frazier fought—and was even arrested at one point—but refused to acquiesce to the hospital's plans to take her mother off life support, ultimately ensuring that her mother received the care she deserved. People in marginalized communities are not only removed from history, she said, but their bodies are also polluted with neglect, which can oftentimes mold into autoimmune disorders, mental health challenges, or Lupus, which Frazier herself lives with.
"It's not just us being gunned down," she said. "It's a slow kill" as people of color live under a cloud of contaminated air but then continue to be treated improperly when seeking help.
Frazier shared that she was recently commissioned by a Belgian museum to photograph a coal mining village in the region, bringing the town's most sustainable resource into focus much like she had done with in her own hometown of Braddock. She found that many of the workers at the Belgian factory were from Sardinia, and were working to build better lives for their families, despite struggling under poor conditions for decades—just like the workers she had photographed in Braddock. When Frazier arrived, many of the workers met her with skepticism, saying "Why are you here? You're a woman, you're American, and you're Black. Contemporary art does not respect the working class."
Yet Frazier sought to do just that: demonstrate that art can be a voice for the disenfranchised when these community's own stories remain unheard and unacknowledged by those in power or by the larger (capitalist) system itself. Moreover, Frazier argued, it can actually be of service to be Othered. Among people of color, she said, Otherness can transform into belonging, as those who are marginalized find safety, understanding, and a sense of home in those who share their experiences.
Much like the steel mills that weave their way through the town of Braddock, the coal tips in this small Belgian town produce trees. Frazier concluded her address by reminding the audience, "from a coal tip, a tree will rise."
--
photo by Eric Arnold, see more photos on our Facebook page.
Theatre of Be Longing
Tarell Alvin McCraney
By: Sybil Lewis
Speaking on the opening night of the 2017 Othering and Belonging Conference, playwright and actor Tarell Alvin McCraney provided a nuanced look at the role of the artist in truth-telling and the importance of developing a "theatre of belonging" in sharing narratives.
McCraney is best known for his acclaimed trilogy The Brother/Sister Plays and his play In Moonlight Black Boys Look Blue, which became the basis for the Academy Award-winning film, Moonlight. McCraney's work is closely connected to his personal experiences. He began his keynote with an anecdote from childhood when three peers chased him while throwing rocks, which is the basis of an excerpt from his play Without/Sin about the love between two young men, Gideon and Reynaldo, who grew up together in a tough urban neighborhood.
The boys closed in on him but they stopped chucking rocks. Are they crazy? Porque no? Why not. 'No Reynaldo, no, look where you are, where you stand, you are near the cars. The cars have precious glass made from sand. They won't break the replaceable glass. Reynaldo's heart broke – I am less than glass? Sand burned in the fire is greater than me? No further will I run then. I will stay and take my lesson like a man. For if now I die, at least I can become as precious as sand
Reflecting on this excerpt of the play , McCraney realized that he had actually failed to do what novelist and playwright, James Baldwin charged artists to do: tell the whole truth. His own hurt as a victim of bullying led him to paint the boys as pure villains, which in truth "the violence they visited upon me was already all around me and in them."
"For example, who taught them that my Black life mattered less than the glass on those cars?" McCraney said. "Isn't it true that [the bully] learned the misogyny and for him not to feel like the girl he let his homophobia blossom. Homophobia is just misogyny aimed at men and that is what [the bully] was feeling."
McCraney, who is now chair of the Department of Playwriting at Yale School of Drama, challenges his students to fully engage with their audiences and to fulfill the artist's ultimate purpose of revealing all parts of the truths, included those that appear in conflict to their own.
In addition to seeking to incorporate the experiences of those who Othered him, McCraney contends with questions of how to embody a "theater of belonging" in his own work. McCraney explained that most theatres began with strong notions of community theatre, but now the concept is often lost within the oftentimes elite arts profession wherein people are divided between those who can afford to attend and those who can't, and therefore do not.
"Queer brown faces that are often at the forefront of culture making," McCraney said. "[But] they have to not only be allowed to perform, but to produce by them and for them. Instead we write well-structured dramas seeped in Western performance and hope to God some student says our work saved their lives."
But plays nor art of any kind actually save lives, he continued, and "it is in the discourse caused by the collective imagining of people of beauty and gore supreme that shifts lives to action. And that is when culture is belonging."
Theatre of belonging, he said, works at the grassroots level with small community-led efforts where the talent of the community is actively engaged and celebrated. The artist should be deeply afraid as the purpose is to unearth truths and to encourage discussion within the community, i.e. the audience. McCraney described a defining moment about ten years ago when Marin Theatre took his play In the Red and Brown Water to the Marin Projects. The play is about a woman in the projects who desperately wants to become pregnant. McCraney was terrified of how the play would be received and how the audience would respond to the queer overtones. What happened, however, strongly highlighted what community theatre should be: In the audience there was a community member who was the embodiment of one of the characters in the play. Her candid reactions to scenes often mirrored the character's reactions – "we were belonging in that moment," McCraney said.
"It has been damn near ten years since that experience and I'm wondering where the road turned. I have been chasing that belonging knowing that I cannot create it, I must return to it. By first returning to my community," McCraney concluded.
Beyond Empathy: Art, Culture, and Imagination
Jeffrey Chang
By: Sara Grossman
Over the past half century the United States has become dramatically more diverse thanks to the arrival of millions of newcomers seeking safety, opportunity, and a chance to share in the nation's unparalleled prosperity. In 1950, people of color made up about 15 percent of the population—today that number is closer to 37 percent. And by 2050, white Americans will make up less than half of the population altogether and no longer be a majority in any sense of the word.
But with this increased diversity has arrived an equally as palpable anxiety towards what for many is a deeply unfamiliar future. For those concerned with creating an equitable and open society, the challenge has now become how to tell a narrative that reimagines, counteracts, and dispels this anxiety while building a hopeful and inclusive vision for the future. And for author and journalist Jeff Chang, Executive Director of the Institute for Diversity in the Arts at Stanford University, the key to this narrative lies in culture, particularly popular culture.
In his talk at the 2017 Othering & Belonging conference, entitled "Beyond Empathy: Arts, Culture, and Imagination," Chang sought to illustrate what the arts and artists can do, in this moment of turmoil and anxiety, to "advance the social imagination." If we will soon all be minorities, Chang asked, how can we imagine a new, inclusive majority?
"Culture is the realm of narratives and images," he said. "Culture is where we find community, where the collective will to change is formed and moved."
Speaking on the hundredth day of the Trump presidency, in a moment where "it feels like we might all fall apart," Chang said there is still an opportunity for us to assert something different. And artists "have the potential to be stewards of validating the righteous humanity of marginalized people."
According to Chang, whether our society comes together or falls apart begins with how we see each other. We learn from an early age to see difference between ourselves and others, and while this can be a good thing as it helps us learn empathy and build community, we often lose this sense of openness to what is different as we get older, making value judgments on that which has no inherent value. Inequity is then produced and reproduced, particularly in the areas of representation, access, and power—even if we are often blind to it.
Yet in its most potent form, art can foster a deep empathy for those who are different, Chang said. And empathy, he said, is the first step towards equity, or shared power. "Art allows us to see again," he said. "And great art helps us close the gap between ourselves and the Other."
And yet, it cannot be overlooked that we are living in the midst of ongoing culture wars in the United States, what Chang called "the struggle for the soul of America," as two sides fight out whether the future will be one of hope and inclusion, or the sad end of a supposedly "great" era. This fight, he concluded, will be fought on the battleground of culture, where hope and fear are equally enticing, and where the victor can lay claim to future political tides.
Chang, the author of We Gon Be Alright: Notes on Race and Resegregation, published last year—before the election, as he noted to audience laughter—then turned to Beyonce's Lemonade to illustrate his vision of the cultural moment we may be in. While the album is materially about infidelity, or "the journey of a Black woman from grief to redemption," as Chang said, when examined through a lens of social justice and through a lens of "the moment we are in now", it becomes about something very different.
Lemonade begins by Beyonce refusing the audience her gaze, locked in a world of hurt, Chang said. She leads us through her cycle of hurt, anger, apathy, and depression, and ultimately, as she turns away from this cycle of revenge and begins asking questions about what and who is her home. "And here is where the gaze returns," Chang said. "The healing begins on this path to attain a deeper understanding of her own place and family."
But draw out the lens further, and the idea of fixing a relationship gone wrong becomes a metaphor for social transformation. Beyonce's redemption reaches the level of the social; the space where we all come together, where we think about how we might mend the ways that we break each other, reimagine history, and dream freedom. Freedom is not won through bitterness and revenge, Chang concluded, but through deep love.
In the climax of album, women celebrate "with the gifts of the garden, the antidotes to the poison." "It's a Black Feminist move, Beyonce has created seats at the table for sisterhood and reimagined relationships," Chang said. "And only then can reconciliation begin."
Today, we are trying to see each other—attempting to work our way towards equity and see where we are broken. We must move from empathy to action, then from resistance to transformation, Chang said. It is the job of artists, and of changemakers more broadly, to move people, inspire them, and "manifest the idea of a nation that is yet to be." Quoting Toni Cade Bambara, Chang concluded, artists must "make the revolution irresistible."
A Public Dialogue on Inclusive and Sustainable Development
Jeffrey Sachs, john powell, Kumi Naidoo
By: Sabby Robinson and Sara Grossman
In a truly fair and inclusive society, all individual members should have equal access to the resources and opportunities produced by the larger whole. However, as renowned sustainable development leader Jeffrey Sachs noted in his keynote address at the 2017 Othering and Belonging conference, this is not remotely close to the case in the United States today.
"US society is more unequal than at any time in its modern history," Sachs said during his keynote on inclusive and sustainable development. "This is not some modern phenomenon. We are an outlier from other rich countries, we are the most unequal, the most unprepared."
Sachs, the Quetelet Professor of Sustainable Development and Professor of Health Policy and Management at Columbia University, noted that the same forces of globalization affecting the US have affected similar nations worldwide, but that other countries have chosen to deal with the effects of that—namely inequality—in very different ways. He argued that we can date the start of that departure in strategy to an exact time: 10:00 AM on January 20, 1981—the day that Ronald Reagan was sworn in as president. Reagan was swept into office on the promise of vast tax cuts and slashes to social programs like welfare, which Sachs argued is a key driver to maintaining equality and opportunity in any society.
"The lesson that both the Democrats and the Republicans took from [Reagan's election] was that everyone should promise tax cuts," Sachs said. Since then, campaigning on a platform of tax cuts and attacks on social programs have become de rigeur in American politics—and has helped the US become one of the most unequal among wealthy countries.
However, Sachs believes that the US can find direction from the policy models of Scandinavian countries, which have high tax rates but also widespread social services and low levels of inequality. A country like the US, with low levels of taxation, cannot possibly be just when wealth and income is flowing into the pockets of a very few, he said.
This belief in the necessity of both taxation and social services is what makes possible social mobility, Sachs argued. "It's what makes possible modern infrastructure that doesn't collapse. It's what makes possible a green economy" Sachs said. "The rich are walking away from responsibility. This is greed, this is short sightedness, this is Othering."
Furthermore, he said, race and racial anxiety have long been used as an effective strategy to divide working people in the United States—helping convince certain groups that they will benefit from the exclusion or oppression of other communities. Trump, Sachs said, "played the Other card on everything" to great success.
Following his address, Sachs was joined onstage by Kumi Naidoo, launch director of the African Civil Society Initiative and former Executive Director for Greenpeace International, and Haas Institute director john a. powell for a panel discussion.
Naidoo, who grew up in South Africa, provided an outsider's perspective on the US's political system, describing it "at best" as a liberal oligarchy driven by a "parasitic elite." Naidoo and Sachs agreed that money in politics is one of the largest barriers to developing a truly equitable and healthy society—one that includes the earth and all its creatures. Naidoo, an expert on environmental activism, added that inequality must be tackled with the environment in mind. "If we do not do address inequality within the Sustainable Development goals—forget about it," he said. As climate change threatens to wipe out whole communities and cause the economic and environmental destruction of peoples around the world, environmental and social justice remain inextricably linked.
"The planet does not need saving," he added. "Because humans may be gone, but the planet will still be here."
Naidoo expanded on his vision by laying out exactly how things should change for a more equitable and inclusive society. Firstly, he said, we must better understand and address how public consciousness and awareness is created, and secondly, we must recognize "that the democratic systems that we have right now is a form of democracy without the substance of democracy—and it's a charade.
Thirdly, Naidoo said, the current economic system that we are often afraid to challenge is broken— "it's unjust, and it must be rewritten."

"What we need to figure out is a way to coexist with the earth," Naidoo said. "What we are facing is the struggle to secure a world that is safe for our children, and our children's children. We must have courage because there's nothing more important than safeguarding our future generations."
The Surreal Present in Historical Context: Another Perspective on Othering & Belonging
Doug McAdam
By: Sara Grossman
Contrary to popular narrative, Donald Trump himself is not root of our problem, Stanford sociologist Doug McAdam told attendees at the second day of the 2017 Othering & Belonging conference in a keynote entitled "The Surreal Present in Historical Context: Another Perspective on Othering & Belonging."
"The divisions Trump embodies are not new," he continued. "And we can't lose that historical perspective."
McAdam, an expert on race in the US, social movements, and "contentious politics," warned the audience that it would be both dangerous and short-sighted to see Trump's rhetoric as something novel in American politics. Rather, he said, these tactics are merely extreme versions of what the Republican Party has been utilizing for decades—namely coded messaging and dog-whistle suggestions on how Americans of color, who have suffered under the weight of both sanctioned and unsanctioned discrimination since the founding of the United States—are somehow less deserving than their white counterparts.
"Trump is not unique, just the most extreme version of what we've seen recently," McAdam said.
McAdam began his explanation with a brief contextualization on the political divisions we see today: the increasingly diverse coasts tending strongly Democratic, while the more homogenous South and Midwest remain firmly with the Republican Party. He noted that the Democrats were not traditionally supportive of civil rights, but were pushed that direction under enormous pressure from social movements and concerted organizing—namely the Civil Rights Movement of the 1960s, which demanded that the government work to address the US's egregious social, economic, and political inequalities, as well as ongoing violence against people of color. The Democrats, led by President Lyndon B. Johnson, ultimately pushed through strong legislation in support of civil rights—and as a result lost its traditional base: the Deep South, which lashed out fiercely against the perceived attack on its ingrained social order.
This white backlash might not be traditionally thought of as a social movement, McAdam said, but it very much was one. Richard Nixon, the Republican president who came to power after Johnson, seized influence by heavily exploiting the racial fears and anxieties brought on by the Democrat's increased support for communities of color. And it was Nixon who first wielded a potent narrative around underserved "takers" stealing from the "makers"—with a strong racial undertone suggesting that African Americans and other minority groups were the "takers" and hardworking whites were the "makers." In other words, social welfare programs such as those championed by the Democrats ultimately came to be viewed as "government overreach" into the lives of ordinary (read: white) Americans who were just trying to feed their families. Of course, when this "governmental overreach" had helped lift up struggling white Americans during the Great Depression, it was widely popular and praised as hugely successful public policy.
GOP politicians like Nixon, Ronald Reagan, Rick Santorum, and now Donald Trump "all used strategic narrative to divide America between the deserving and undeserving," McAdam said. Trump, who has warned of "Bad Hombres" and "rapists" coming in from Mexico, is merely a more overt player in the racial politics game.
In a discussion with McAdam after his short address, Haas Institute Director john a. powell noted that the common GOP refrain that low taxes are good for Americans is inherently racialized, as these very taxes fund social services that often support low income Americans of color—the "takers." The very programs that have sought to help address the entrenched race- and class-based inequalities upon which this nation was founded, such as welfare, food stamps, or affirmative action legislation, have been attacked as giving to those who are "unworthy" of opportunity or support.
Moving on to the present day, powell noted that "Trump ran an identity-based campaign on white ethnic identity"—where "making America great again" signified a return to a time when Black Americans and other communities of color were relegated to the status of secondary citizens. When America was "great," for whom was it actually "great" for?
"Trump created a coherent cohesive white identity, but we have not created a coherent Progressive identity," he added.
McAdam agreed, but added that the Republican Party benefits from an easier organizing task with homogenous groups—conservative white Americans who seek to protect their social and economic hegemony in US society. "But there's no reason the Left can't form an unstoppable coalition, despite differences," he said.
While the problem of the GOP's reliance on racial anxiety to enact policy is clear, McAdam said, the largest challenge to fully addressing the root of this problem is divisions within the opposition itself. Although Trump's Others greatly outnumber those who embrace him, it has become too easy to Other each other in seeking to acknowledge differences among us, he observed.
"When we talk about suffering, it becomes a competition. We all got it bad!" powell added. "We need to hear each other's stories, discover a new story, a better story, for all of us."
Trump's election demonstrates that it's not just about having the numbers—"it's about who is the better organizer," powell said. The trick, both speakers agreed, is in engaging with systems and institutions in a sustained and strategic way, just as the Tea Party did when Barack Obama was president. McAdam noted that the Tea Party found remarkable success in consistently engaging with electoral politics and the local Republican party to move the party in a more extreme direction.
McAdam concluded that Progressives should learn from these organizing successes and recognize that progress often happens locally and via structural changes. Merely having one man in office—or a few protests—is simply not enough for widespread, tangible, and transformative change.