Barriers to Belonging: Expulsions, Right-Wing Populism, and the Global Struggle for Democracy
Saskia Sassen, Kumi Naidoo, Tarso Luís Ramos
From extreme inequality to forced migration, the world's bloated system of finance can be found at the root of nearly all major challenges of our time, said renowned sociologist Saskia Sassen during an hourlong panel discussion on "barriers to belonging" with Kumi Naidoo, former director of Greenpeace International, and Tarso Luis Ramos, an expert on rightwing movements.
Finance, she explained to nearly 1,200 attendees at the 2017 Othering & Belonging conference, is not so much about making money, but about creating it—as, by its nature, finance sells what it doesn't have and does so without producing anything of tangible value. This buying and selling of nonmaterial goods now outstrips the value of global GDP—and as a result, social concerns like health care, education, and shared opportunity have all become secondary to the continued generation of profit.
Fundamentally, Sassen said, financialization is just one more manifestation of a larger "logic of extraction," which she called a global economic project spurred by the twin trends of privatization and deregulation. For finance firms to achieve profit, she explained, they must speculate on the products of other sectors using tools to extract goods and create financialized commodities. Eventually, everything from student loans to mortgages becomes financialized—and a powerful wealth creation tool for a small global elite that can make billions from the click of a mouse.
"All that capital, if you could just bring it down, and use it to build social housing, to clean up all the toxic dumps we have—if we have a larger mind that could think 'How do we use this for the larger good?' we would be better off," Sassen said.
Naidoo, who is currently the launch director of Africans Rising for Justice, Peace, and Dignity, took Sassen's criticism of the global economic system one step further, arguing that a new vision of economics is needed to achieve a truly inclusive and sustainable world.
"We must connect spirituality with our economic system," he said. "What makes a meaningful life? What is valuable for us?"
We are suffering from affluenza—a pathological illness that equates happiness with consumption," he continued, "and are in deep denial about how broken our political and economic systems are and how close we are to ecological collapse."
"Climate change cannot be addressed with incremental tinkering," Naidoo added. "To address the crisis we need to do more with less."
Sassen said that to address the worsening ecological and economic systems, we must begin to "relocalize."
"Do we need an international corporation [in order] to have a coffee in the neighborhood?" she asked. "We must work to create tissue in neighborhoods through new kinds of economic activity."
Ramos, Executive Director of Political Research Associates and a researcher of US rightwing movements, noted that neoliberalism—the movement to deregulate and privatize all aspects of communal life—was once a right-wing project, but "is now the air we breathe."
For those seeking guidance on achieving Naidoo's vision of a reimagined economic system, Sassen pointed to cities themselves as homes of the resistance. The frontier has traditionally been where actors from different areas meet and where there are no rules, she said. But today, "the only frontiers we have left are those within our own cities," where creative resistance can meet, formulate, and grow stronger.
--
photo by Eric Arnold, see more photos on our Facebook page.
The Art & Science of Building Power
Taeku Lee, Lisa García Bedolla, Marshall Ganz, Dr. Ravi K. Perry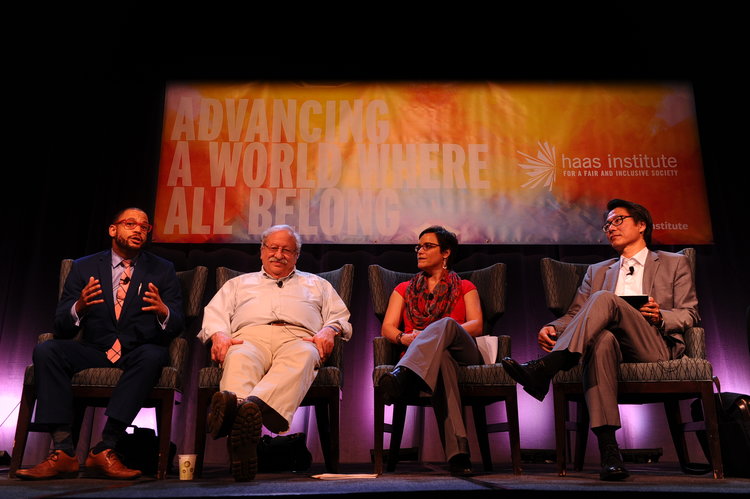 By: Sybil Lewis
Understanding the demographic changes, public narratives, and campaign strategies that led us first to Barack Obama and then to Donald Trump is critical to building an electorate across race, class, gender, generational, and geographic lines that can guide the US political order into one that is firmly rooted in an ethos of belonging. In an attempt to address the precarious political situation we find ourselves in today, four scholars and political activists at the Othering & Belonging conference sought to deconstruct the 2016 presidential election and strategize new ways to energize voters of color and create new narratives on what politics can do for the people.
Taeku Lee, Professor of Political Science and Law at UC Berkeley and Associate Director of the Haas Institute for a Fair and Inclusive Society, moderated the contentious-at-times panel discussion, entitled "Participation, Politics, and the Progressive Project: Where Do We Go From Here?" The panel featured Ravi K. Perry, Associate Professor of Political Science at Virginia Commonwealth University, Marshall Ganz, Senior Lecturer in Public Policy at the Harvard Kennedy School of Government, and Lisa García Bedolla, Chancellor's Professor in UC Berkeley's School of Education and Travers Department of Political Science.
Ganz, who created an agency-based framework for organizing and is credited with developing the grassroots organizing model for Barack Obama's winning 2008 presidential campaign, noted that there are three elements critical to a political campaign: a compelling story, a strategy to gain power, and a structure that organizes people. The interplay of these three items manifested remarkably differently in the 2008 and 2016 presidential election.
"Trump, unlike Obama, was organizing out of fear and anger," Ganz said. "When people are mobilized on fear, they come to depend on you—you are the savior, you rob people of their agency and turn them against everybody else because you are going to save our group."
Obama, on the other hand, mobilized out of hope. "which enhances people's agencies."
"It is 'yes, we can' and not 'yes, I can,' and together we engage with the problems that we have to face," he said. "We didn't have that counter-narrative in any effective way in 2016, so Trump carried the day."
Lee asked the panelists if the way forward for progressive movements is to build on the current structures, or to radically break from the past and create a new movement. Perry, an expert on Black politics and minority representation, argued that the question presumed one could not have both.
"I believe in a dual strategy," Perry said. "I believe that we can and should be in street corner as loud as we can and all the metaphors that that inspires and engenders. But also that we have to engage in institutions of politics because if we are not engaged in institutions, which is where power is located in the US, then you already have set yourself to lose."
Progressives have to deal with the "real world," he said, and despite many Progressives' unease with the Democrats, "the reality is...the only locus of opportunity for African Americans to solve short-term problems today is the Democratic Party."
All panelists agreed that the Democratic Party had failed to mobilize and engage voters in a collective agenda during the 2016 presidential campaign. García Bedolla, who is also a co-founder of the American Majority Project Research Institute, argued that the party made the mistake of assuming that people of color would be mobilized by fear and anger alone, thus, focusing on individual pathology, rather than engaging with voters to understand nuances within communities of color and to understand larger structures, such as voter suppression and disenfranchisement, that influence voter turnout.
The final question of the evening urged panelists to discuss the roles of identity politics in the Progressive Left. Perry stated that voting by group interests can produce positive results as it requires people to think beyond individual gain. García Bedolla challenged the audience to move beyond the term "identity politics" as it can trivialize structural positions and experiences and that many successful campaigns form coalitions while continuing to do community-driven work. The goal, Ganz stated, should not be to negate identity politics or issue-specific efforts but to further include them into a larger idea of progressive politics.
While the panel addressed setbacks in the progressive Left's movement, the tone of the conversation remained hopeful as past experiences were used as lessons for future organizing.
The Power of Belonging: Organizing, Democracy, and Governance
Rashad Robinson, Zephyr Teachout, Sabrina Smith, Jonathan Smucker
By: Sara Grossman
The "Power of Belonging" keynote panel kicked off with a discussion about the nature of power itself. Led by moderator Jonathan M. Smucker of Beyond the Choir, each panelist offered their own visions of power, including its opportunities and challenges, dangers and vulnerabilities.
"Power without love is reckless and abusive," Smucker started off, reading a passage from Martin Luther King, Jr., "and love without power is sentimental and anemic."
The other panelists, Sabrina Smith of California Calls, Rashad Robinson of Color Of Change, and law professor Zephyr Teachout, a former candidate for Congress and Governor of New York, agreed that fully understanding—and using—power is critical to enacting the transformative change that Progressives claim they want to see.
"If you care about people being able to breathe, eat, and educate themselves then you've got to care about those formal sources of power," Teachout said, adding that many on the Left are uncomfortable engaging with politics, despite the fact that politics is where life-changing policy is developed and enacted. Quite simply, she said, we cannot win without taking on power—specifically corporate power—and the most direct way to do that is through politics itself.
Smith, Deputy Director of California Calls, an alliance of 31 grassroots organizations that mobilizes marginalized communities in the statewide political process, echoed Teachout's conclusion. Only by understanding power can we change conditions, Smith said, defining power as "the ability to achieve an agreed-upon goal." She later added that changing conditions relies on the fundamental restructuring of institutions and structures.
"How do we build a sense of identity and belonging that is broader than our small community-based organizations or the circle of us activists?" she said. "We have to figure out a strategy to build our version of the Tea Party...a radical challenge of corporate power, of status quo, of racism—a sense of belonging."
Speaking on the final day of the Othering & Belonging conference, the panelists discussed the various ways each were bringing power into political organizing—and the importance of taking a stand in the political arena, despite politics being "square," as Teachout joked.
"When institutions aren't concerned about disappointing the Black community, you're in trouble," said Rashad Robinson of Color Of Change, the nation's largest online racial justice organization that has fought since 2005 to change how people of color organize to demand change.
"Presence is important," he said, defining it as visibility and awareness. "But it but can't replace actual power. Power is the ability to change the rules."
Robinson shared his organization's four-part strategy for moving from merely responding to challenges to actually changing the rules for tangible, long-term progress: respond, build, pivot, and ultimately scale. In the past year, Robinson said, Color of Change has pivoted to focusing on two main issues with this strategy: bail reform and the election of progressive district attorneys. Both emphases are intended as investments in long-term organizing that Color Of Change hopes will positively affect the lived experiences of communities of color for years to come.
Most recently, he said, Color Of Change had great success campaigning against Anita Alvarez, a Chicago district attorney who chose to ignore DNA evidence that would have exonerated 10 Black men who had been convicted of crimes as juveniles. The organization mobilized its network and hosted rallies seeking to pressure Alvarez to take action. After learning that President Obama was considering Alvarez for a federal judgeship, the organization released released ads targeting the president asking him to not appoint her.
"Five days later Anita Alvarez decided the DNA evidence mattered," he said, demonstrating the tangible effects of Color Of Change's organizing strategy.
"Oftentimes we focus simply on the issues, not on the structures that got us here," he said, noting that the opposition has spent years strategically stripping away Americans of color's access to the vote—because it understands that "they cannot win if we can vote." Larger structures must be shifted in tandem with addressing smaller, more urgent challenges for lasting victory.
Robinson went on to argue that not only must this organizing strategy be used against those in obvious opposition, but within the Democratic Party itself, which he said often cares about the votes of people of color, but not their voices and needs.
Still, argued Teachout, the fastest and really only way for tangible policy change is to continue to engage with the Democratic Party, despite its flaws, and help move the party forward. Ultimately, she said, the US is and will remain a two-party system for the foreseeable future.
"Getting involved locally is the way to shift the Democratic Party," she said. "Instead of hiding from anxiety and the flaws of the Democratic Party, we have to confront them."
Ultimately, Robinson argued, the key to success is having the right mix of fighters, mediators and insiders in any political fight. The "opposition movement should be made up of 5 percent mediators, 65 percent fighters, and 30 percent winners," he concluded.
The Being of Belonging
Tara Houska, Alicia Garza, Zahra Billoo, Jidan Koon
By: Erica Cardwell
"Bridging to Belonging," the final panel of the 2017 Othering & Belonging conference, featured four women of color representing justice work for some of our society's most marginalized communities: Black, Muslim, and Indigenous peoples. Alicia Garza, co-founder of #BlackLivesMatter and Special Projects Director at the Domestic Workers Alliance, Tara Houska, tribal attorney and National Campaign Director at Honor the Earth, Zahra Billoo, Executive Director of the Bay Area chapter of the Council on American Islamic Relations (CAIR), and Jidan Terry-Koon of the San Francisco Foundation discussed the various ways their individual movements have moved from galvanizing moments towards creating resilient structures of belonging.
Terry-Koon, the panel's moderator, opened the discussion by asking the audience to consider tangible methods of belonging as community members. "How do I as an individual and how do we as progressive folks rise to the full urgency and potential that is right now?" she asked, setting the context for a larger discussion on the importance of intersectional solidarity that both recognizes human similarities while also embraces differences.
Before offering her own answer, Garza requested the audience say the name of Jordan Edwards, a 15-year-old Black Texas teenager who was fatally shot by police officers after leaving a party just before the first evening of the Othering & Belonging Conference. "As we are sitting here talking about Othering and belonging, a child is murdered," Garza said. Many of the conference participants were still piecing together the story, engaging in the perplexity of seeking to build up a larger movement towards liberation in the midst of deep unrest.
For Garza, the success of any one future movement critically depends on its deep interconnection with other movements for justice. "I belong only if you belong," she said. "My work is to cultivate the movement that I want, fully understanding it is not yet here."
Still, she said, we cannot pretend that all peoples and movements are the same. Garza, whose movement has created space for Black diversity and difference, warned against the dangers of trying to oversimplify difference.
"There is something about this country that attempts to 'sameify' us," she said. In order to make movement-building actionable, our fundamental differences must be embraced, so that all of our areas of belonging are present and accounted for. "Samifying people serves to negate people's experience," she added.
Furthermore, she said, progressives must stop shying away from difficult conversations with those in their own communities. She emphasized that progressive leaders cannot continue to tell people that what they're seeing and experiencing isn't true.
"We need to face uncomfortable truths," she said, citing difficult conversations around notions like Latinos are stealing jobs from Black communities, or that Black workers are lazier than other groups. There may be some truth in those notions superficially, she said, but it's the job of progressive leaders to explicate and complexify the roots of these impressions, for example "when we say Latinos are taking our jobs, we overlook systems that displace one group to exploit another," she said. Uncomfortable conversations around people's lived experiences are necessary to build a truly intersectional movement, she concluded.
"Building movements involves listening and hearing what is actually being said and being comfortable with complexity," she said.
In honor of these complexities, Billoo, a civil rights attorney, spotlighted diversity within the Muslim community, noting at one point that her bluish gray hijab "is not the default setting" for Muslim visibility. Statements like this are critical to emboldening silenced Muslim community members and educating well-meaning liberals on invisibility and discrimination. On a similar thread, Billoo advocated for the importance of including queer Muslims to show the diversity of the Islamic community. Billoo acknowledged that a certain level of intra-community processing must happen, in order to truly resist Islamophobia. "But we can speak to folks where they are and advance strategically," she said.
She offered her own personal case study of "speaking to folks where they are at" and finding great success in "gently pushing" her own community to a place of deeper belonging. As director of the Bay Area chapter of CAIR, Billoo regularly delivers "Know Your Rights" trainings to those in the Muslim community, including at a mosque that requested she conduct her training in a room of only women, with an audio feed to another section of just men. Despite her initial hesitation and discomfort, Billoo decided to build a relationship with the community before jumping in with her own criticism. She continued to present regularly to the mosque until one visit, the elders of the mosque asked to Billoo join her male colleague in speaking to the community's men because they had grown comfortable with her. Her patience in "meeting people where they are at and advancing strategically" proved far more successful in the long run—empowering the community itself to expand its notion of belonging and inclusion.
Houska, a tribal attorney, went on to speak about galvanizing movements not only from the inside, but from those outside the fight as well. During her time protesting at the Standing Rock Sioux camp for the movement against the Dakota Access Pipeline, Houska witnessed women and children attacked by militarized police and was even arrested and kept in a dog pin with dozens of other protesters. Even after a tumultuous six months and an end to the pipeline, Houska is not backing down. The focus has now shifted to divestment, she said, specifically on companies that invest in #DakotaAccess. "Banks don't listen to morality but to money," she said.
"Now that our land is seized, the clearest way to get our movement realigned is to focus on our financial divestments," she said. "To take our money out of Wells Fargo, Chase Bank, and Citibank." Despite the movement largely being led by and within the Native American community, millions of others have pulled their accounts from banks like Wells Fargo. Such an action is particularly difficult because it requires both confrontation with privilege and sacrifice of routine conveniences for which many are unprepared.
Movement-building requires information from the most silenced, targeted, and marginalized to build action-oriented methods of ongoing resistance. However, Bridging to Belonging underscores that these methods could be shaped to include the folks that are unfamiliar with our terms, and for those that are willingly living in denial. The tricky part will certainly involve sustainability and boldness in order to engage in "difficult conversations." Houska, Billoo, Terry-Koon, and Garza asked us not only to forgive, but also offered alternatives on new ways to build.